In a developing country like India solar energy and technology have the potentiality to tackle the longstanding energy problems which are being faced. Energy prices in India are at a premium, and supply, while growing, isn't keeping pace with steep demand. In such scenario, solar energy can be a critical piece of India's plan which will not only add new limits and is a multibillion-dollar opportunity  but will also increase vitality security, address environment concerns, and lead the massive market for renewable energy.
Solar energy should become a major source of the electricity generation in India. Generation of electricity from fossil fuels like coal and natural gas becomes expensive and harmful to the environment. On the other hand, solar energy is completely free and readily abundant- if we cou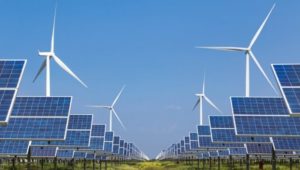 ld capture all of the sun's energy shining on the Earth for just one hour, we could power the whole world for one year!
In recent, the Ukkadam solar power plant has produced around 3 lakh units of power and helped the city corporation save about Rs. 16 lakh in its electricity bills.
A corporation official, who is in charge of the solar plant said, "While 1.46 lakh units of power were generated in February, another 1.5 lakh units were generated in March. The cost of power is Rs 5.60 per unit. The power produced in the plant is used to offset the electricity bill of a water pumping station at Velliangadu."
The plant has 3,168 panels, each with a capacity of 320 watts. It was established at the cost of Rs 5.5 crore and generates an average of 4,500 units per day.
In the mean time, the Corporation has begun the establishment work of another solar plant, neighboring the current one at Ukkadam, on 15 acres of land and intended to finish it in four months. The plant is relied upon to create 5.9kW units of power every hour and the civic body has just gotten a no-objection certificate (NOC) from TANGEDCO to transmit the power produced in the plant.
"It took some time to connect the first solar power plant to a TANGEDCO sub-station as it involved shutting down power in some areas. Now that it is connected, we just need to connect the new plant with the existing one to transmit power," the official said.
Besides these two plants, another solar plant with a capacity of one megawatt is under construction at Kavundampalayam and it is expected to be completed in a month.
With the power oriented from the three plants, the civic body, which has been paying about Rs 20 crore for each annum on its power bills, is relied upon to save Rs 5 crore. The organization pays power bills of two sewage treatment plants (STPs) at Ukkadam and Ondipudur alongside the water treatment and pumping stations at Velliangadu and Pillur.