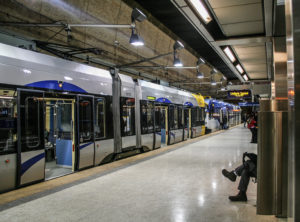 Soon after a couple of days the everyday operations at Nanganallur Road and Meenambakkam stations will be running on solar power, as Chennai Metro Rail Limited (CMRL) has installed and commissioned a 428KWp solar power plant on the rooftop of the two elevated stations.
These solar plants will have a capacity to generate around 57,780 units per month, with this the metro rails are expected to save an amount of around Rs. 26.34 lakh per annum.
While most of the everyday's activities at the stations have been planned to be powered by solar panel later on in the future, CMRL is additionally progressing in the direction of utilizing solar power for operation of trains as well.
The power generated from solar will be utilised for lighting system and to operate electric gear required for the maintenance of the stations. Till now, CMRL has a total installed capacity of 4.1 MWp solar powers including those installed at its head office in Koyambedu and a couple of other metro stations.
CMRL had just installed 1 MW solar panels at its station and 125 KWp at its vehicle parking producing an aggregate of 1.35 lakh units a month saving CMRL Rs 21.6 lakh for CMRL on power charges.
Another 2.5 MWp rooftop top solar power installation is under advancement and is relied upon to be finished by end of this current year.